Your Adoption Greeting Card Specialists
Reunite cards produce adoption specific greeting cards and bookmarks. This inspirational collection comes to you from Jeanette Broekman and Megan Whittington, both adoptees from the 'Closed Adoption Era'. Infused by life experiences, the artwork and text express the sentiments of relationships resulting from adoption, separation and reunion.
Special occasions need to be expressed with heartfelt emotion. This range of signature cards enables acknowledgment of separation, feeling the exhilaration of reunion, delight in all firsts, and the electrifying joy of connecting with family. Fully Expressed
All cards are exclusively designed by adoptees, birth parents, adoptive parents as well as other family members and friends from all sides, and as a result, an authentic and genuine range of suitable to use cards for all occasions has been created.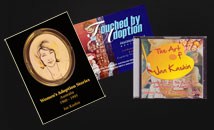 Although the cards are inspired by adoption relationships, there are many that are open to individual interpretation relative to your own circumstances. The cards are also for those who are separated from significant others, those who are part of a broken family or foster families.
Reunite Cards also offer a range of Artworks available for canvas reproductions, or in some cases, the original artwork is for sale. Also featured on the site are books and dvd's relevant to the adoption experience.
Reunite Cards - Your Adoption Greeting Card Specialists
http://www.reunitecards.com