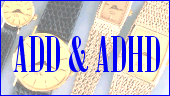 ADD & ADHD Attention Deficit Hyperactivity in Children
Are Hard Times and Adversity More Difficult for Children with ADHD?
How to help children with ADHD cope with trauma and adversity.Interview with Professor Joel Nigg, PhD
ADD/ADHD FAQ
What Does It Mean for Parents and Families when Their Child is Diagnosed with This Condition? Anne Robertson
Attention Deficit Disorder: An Overview of Childhood ADD
Causes and diagnosis of ADD or ADHD in children. Michael Russell
Auditory Processing
Auditory processing dysfunction can be mistaken for ADD or ADHD. Laura Dyer
Appointment with Destiny
Can my son have ADHD? Beginning the process of diagnosis. Jeff Stimpson
Age When ADHD is Diagnosed
Timing of ADHD diagnoses in children. Keith Londrie
Teaching Children with ADHD
Teacher recommendations and school accomadations for children with attention deficit disorder (ADHD and ADD).
Goodbye Hawaii
A humorous look at life with a child with attention deficit hyperactivity. Pat Linkhorn
Attention Deficits ADD/ADHD- What Teachers Should Know
Over 100 suggestions on teaching children with attention problems. Also applicable for children with learning differences and disabilities.
Helping your ADHD Child Cope with Impulsivity
Coaching your ADD ADHD child with impulsivity toward better behavior. Dr. Steven Richfield
Teacher Tips: Improving Social Skills in ADHD Students
Helping children with ADD or ADHD with social skills during school. Douglas Cowan
Kids Can Be Clueless
Knowing the rules is one thing, and being conscious of them, and being aware of what one is doing at all times, is another matter. Joyce Divinyi
ADD ADHD BOOKS