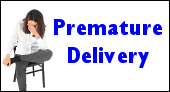 High risk pregnancy, bed rest, infant death and other issues which may be related to premature delivery and pre-tem birth.
Premature Delivery
Delivery of Preemie Twin Babies
The touching personal story of the delivery of twin preemies. Nicole Zimmerman
Comforter
In this touching true life story, a nurse's healing words help sooth the tears and grief when a much wanted pregnancy ends in miscarriage. Cindy Hval
Pre-term Pregnancy Resources
Parent to parent websites, forums and email support for preterm pregnancy.
Pregnancy Loss and Infant Death
Resources for parents suffering the death of their premature child.