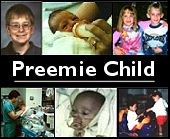 Preemie Child Mailing List for parents of children born premature who are now school age or older.
The Preemie Child mailing list, founded in 1997, provides support and information on the long term impacts of prematurity for parents of school age preemies. Parents of children 4 years or older who were born prematurely are welcome.
Children who are born very prematurely may have disabilities and special needs, including medical, physical and psychological impacts, which continue to require attention as they enter school and society. These disabilities and special needs are often difficult to address because they may be "invisible" and multiple. This listserv brings together this small (but growing) group of families for support to learn from each other's experiences.
Examples of special needs related to premature birth include:
Asthma, behavior issues, eye damage (ROP, glasses, myopia, blindness), speech impairment, feeding problems, ADHD (attention disorders and/or hyperactivity), learning disabilities, cerebral palsy and muscle tone issues, fine motor problems impacting handwriting or other skills, autism and Aspergers Syndrome, gastrointestinal issues, hearing loss, lower IQ scores, and other physical and mental special needs.
Join Preemie-child
Send in your introduction and contact information to subscribe.
List Rules & Instructions
Reference for members on posting, changing settings, and rules.
Meet Preemie Child Members
Photos and introductions from a few of our Preemie Child members.
Why was Preemie-child Started?
Our personal story.
More
Preemie Child Show and Tell
Art and stories by the children of Preemie Child
Prematurity Forum
Do you have a preemie less than 4 years of age? Posts from all preemie parents are welcome on the Prematurity Forum.