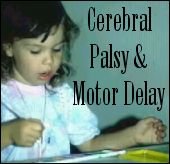 Cerebral Palsy and Motor Delays In Children
Cerebral Palsy Articles | Cerebral Palsy Books
Cerebral palsy is one of the most common causes of chronic childhood disability (1.4-2.7 % births). While preemies constitute a small minority of children with cerebral palsy, they are 25 times more likely to develop cerebral palsy than fullterm babies. Cerebral palsy (primarily diplegic cerebral palsy) occurs in 5-8 percent of babies born weighing less than 3 pounds.
Cerebral Palsy Articles
Causes and Prevelance of Cerebral Palsy
Frequency and causes of cerebral palsy.
Cerebral Palsy and Premature Infants and Children
Discussion of cerebral palsy in children born premature. Sheena Carter, PhD
Motor Impairment Associated with Neurological Injury in Premature Infants
This informative article discusses motor impairment and cerebral palsy of preterm infants. Dr. Carter describes the factors necessary for a diagnoses of cerebral palsy, and the developmental course of neurologically based motor problems in premature children. Sheena Carter, PhD
The Frustrations of Mild Cerebral Palsy
A mother relates how the "mild" diagnosis has problems all it's own. Rene Milner
Ways to Help Improve Fine Motor Skills
List of fun activities to improve children's fine motor skills. Joyce L. Evans
Orthodics
An occupational therapist discusses the purposes and use of orthotics, for children with cerebral palsy. M. Darrell Parker
Rigid Versus Folding Wheelchairs
Wheelchair comparion. Gene Emmer
Definition of Cerebral Palsy
Overview of cerebral palsy - possible causes, effects, types, and treatment. Frank Hague
Milestones and Activities for Your Toddler with Cerebral Palsy
A mother describes milestones and fun activities for young children with cerebral palsy. Anne Casey
If It's Accessible, They Will Come
Gates of public access unlocked during the last decade of the 20th Century have revolutionized life for people with disabilities. Janet M. Gresham
Therapeutic Horseback Riding
These riding programs bring disabled children and adults together with horses in a world where disabilities can fade away, if only for a short time. Linda Hubley
Research and Diagnosis of Cerebral Palsy in Preemies
The Variability in Diagnoses of Cerebral Palsy for Preemies
Cerebral Palsy is defined very strictly so that some preemies who seem to have neurologically-based movement disorders are not being classified as having CP. Helen Harrison
Ultrasound of Premature Infants and Risk Factors for Cerebral Palsy and Developmental Problems
Testing and risk factors for cerebral palsy and other developmental impacts. Helen Harrison
Mild Cerebral Palsy
Diagnosis of mild cerebral palsy in prematurely born children. Helen Harrison
Cerebral Palsy Resources