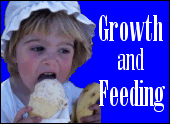 Growth and Feeding Issues of Children
"I hold my breath every time he gets on the doctor's scale. It seems to be the ultimate test of my worthiness as a parent."
Laura Williams, Feeding Issues Discussion Board.
Feeding Articles | Sensory Integration and Feeding | Prematurity and Feeding & Growth | Mailing Lists and Links
Hyperactive Gag Reflex
An occupational therapist provides advice for feeding your child who has a hyperactive gag refex. M. Darrell Parker
Food Allergies, Food Sensitivities and Food Intolerance
A pediatrician explains the difference between food allergies, food sensitivity and food intolerance. Dr. Michael Cohen
Meal Time Hints For Children With Food Aversion
Suggestions for feeding children with tactile sensitivity or other issues that effect eating. Rachel Browne
Hints On Feeding A Child With Dysphagia (Difficulty Swallowing)
Diet and feeding hints for children with dysphagia from the mother of preemie twins. Barb Wagner
Sensory Integration Issues and Eating
Oral Defensiveness Activities
Sensory integration issues can play a big role in feeding issues of young children. Here are some oral sensory integration activities for the home. Virginia Brick and Jacque Shatako
Prematurity and Growth and Feeding Issues
Will My Baby "Catch Up"?
A summary of scientific studies on growth and prematurity. Dr. Raye-Ann deRegnier
Gastroesophageal Reflux in Premature Infants
Symptoms and management of reflux in premature babies. Dianne Maroney
Breast Feeding of Pre-term Infants
Research supports the benefits of breastfeeding preemies. Helen Harrison
Preemie Parenting
Preemie parents and professionals discuss preemie milestones.
Resouces for Dysphagia, Growth and Feeding
Websites and mailing lists for parents of children with feeding issues.